Townsend Lumber Delivers First Outbound Rail Shipment
May 18, 2023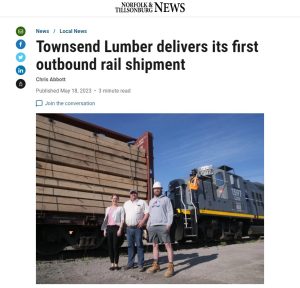 On the morning of May 9th, the first-ever outbound rail shipment by Townsend Lumber headed out carrying 204,000 pounds of rail ties.
After its initial stop in St. Thomas, along the 48-km GIO Rail short line, which runs from St. Thomas to Courtland, the shipment was then transferred to CN Railway for the remaining approximately 700-km trip to Stella-Jones Inc.'s treating plant in Delson, Quebec, near Montreal.
"I'm trying to support GIO Rail on this short line," says Mike Penner, co-owner of Townsend Lumber. "It's giving business back to GIO Rail and supporting them…Inbound, we expect 12-15 carloads coming in this year from the west coast for our Douglas fir program."
Using rail also reduces Townsend Lumber's carbon footprint – one rail car can replace three transport trucks.
To read more about this 'company first' for Townsend Lumber, see the full article in the Norfolk & Tillsonburg News here.